Fire Pits & Places
An enjoyable fire in your backyard can make an evening at your home feel warm and enlightening. There are many ways to have this element of outdoor living. There are custom built fire-places, fire pits and even fire pit places. These warm elements have become a common centerpiece within any outdoor living space. Besides burning wood, there are plenty of gas fire options.
Every home deserves a place to burn or click a fire on. Sometimes after a stressful day when you are tired you just don't want to watch TV. Instead you want to make a drink, sit outside and stare at a fire. Moreover, the process of starting a wood burning is enjoyable. The continuation of placing dead branches on your fire to warm yourself during a cold evening is uplifting for some. For others, roasting marshmallows over the burning fire pit is the best.
Whether we build you a Belgard hardscape or natural stone fire place, fire pit or fire pit place, you will love the excellent workmanship and quality of materials. At Mr Outdoor Living, we help you shop for the best option that fits your outdoor living space.
"Now we have research that shows homebuyers will pay a premium for a nicely landscaped property, particularly one that features elements like an outdoor fireplace and finished in stone or brick." – John Duffy of Duffy Real Estate.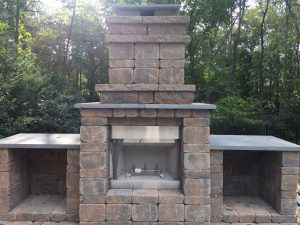 Fire-Place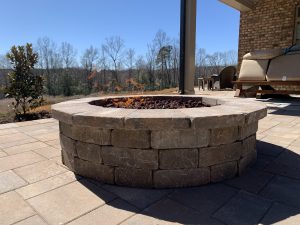 Fire-Pit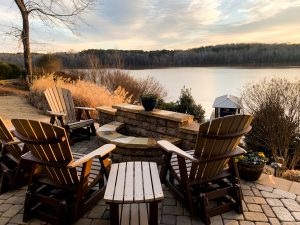 Client Testimonial
"We used Bill and Mr Outdoor Living to do landscaping, hardscaping and dryscaping at our home. We could not have been more impressed! Every expectation exceeded! We will be using them for needs that arise for years to come.
If you are looking for a landscaper in the Charlotte area, I cannot recommend Mr Outdoor Living enough! We would not use anyone else!
Things that stood out –
1. Bill listened to our needs and goals. He went above and beyond in implementing the solution we had in mind!
2. Bill was conservative on costs and stayed within our budget
3. Crew was professional and the overall project was efficient! Our project only took 2 days!"